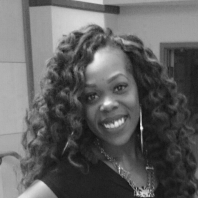 Sis. Alandria "Coco" Webster was born to worship and praise God! Her energetic and Spirit-filled persona is the motivator that drives her dedication to worship and praise God with a sense of excellence and reverence. "Coco", as she is affectionately known, is very family oriented. Being raised in a large family has its benefits; a fact that she embraces as she seeks to always put her family first. She began the early stages of her life singing and directing choirs under the leadership of her exceptionally gifted God-Father, Maestro Troye Morris. His strong musical ethic and influence still resonates with her today because most Sunday evenings, Coco can be found attending a musical or concert in the San Francisco Bay Area, after having served in one or more of the various morning Worship Celebrations at her church.
Sis. Coco is a graduate of Emery High School in Emeryville, CA where she enjoyed singing in the school choir. She also excelled as a graduate of the Marinello Schools of Beauty where she received numerous honors and a Cosmetologist License in 2012.
Sis. Coco is a faithful and active member of the St. John Missionary Baptist Church where Dr. Kevin B. Hall is her Pastor. She finds great delight and encouragement working with the children ages 3-12 who comprise the Children Choir. As the Servant Leader of the Children Choir, she teaches and directs "age appropriate" songs that edify God, bless the congregation and allow the children to worship and praise God in their own unique way. Sis. Coco is also the co-director of various other choirs at St. John.
Sis. Coco strives for excellence in all areas of her life and is constantly seeking ways to improve her contribution to the world. Whether it's growing closer to God to assist her as a Music Director and Psalmist for the further movement of His Kingdom or sharpening her tools of the trade as a Cosmetologist for the various clients who seek her advice concerning their health and beauty needs, Sis. Coco is grateful for the purpose in which God saw fit to create her.
Sis. Coco recognizes the influence of the power of God in her life, as she can often be found reciting her favorite passage of Scripture, "And he said unto me, My grace is sufficient for thee: for my strength is made perfect in weakness. Most gladly therefore will I rather glory in my infirmities, that the power of Christ may rest upon me. Therefore, I take pleasure in infirmities, in reproaches, in necessities, in persecutions, in distresses for Christ's sake: for when I am weak, then am I strong" (2 Corinthians 12:9-10).