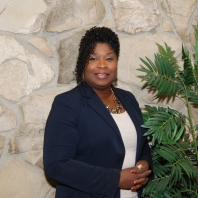 Min. Cynthia Harris, Minister of Administration
Email: charris@sjmbc.org
Phone: 510-233-1779 x12
Minister Cynthia, born in the red hills of Dermott, Arkansas, is the oldest of 5 children born to Rev. Lawrence and Mrs. Dorothy Washington. She is the mother of two grown children, Aaron (Nicole) Green and Jenell (Mustafa) Muhyee and grandmother to Imani and Israel Muhyee and Leah Green.
Minister Cynthia, as she is affectionately known, is a faithful member of the St. John Missionary Baptist Church of Richmond, CA. She has served in various ministries at St. John, such as Sunday School Teacher, Voices of St. John Choir member, Servant Leader of the Christian Education Ministry, Single Adult Ministry, as well as the Youth & Young Adult Ministry.
After 26 years of loyal service to the Chevron Corporation, she retired in 2004 to devote the remainder of her years to fulltime ministry in God's Vineyard. In her present position as Minister of Administration for St. John, she oversees the day-to-day operations at the St. John Administration Building, located in downtown Richmond. Among her scope of responsibility, she coordinates annual meetings, retreats, conferences and special programming for the over forty out-reach and in-reach ministries of the church.
Minister Cynthia is grateful to God for His gift to her as a psalmist who delights in spreading the message of God's love through the instrument of song. Her voice depth, and range convey her devotion, passion and love of Christ. She is uniquely talented in renditions of traditional or contemporary gospel music and has performed in a host of venues within the continental United States and abroad. Most notably, in 1997 she was featured at a concert to commemorate the life of Lady Diana in Lugano, Switzerland. Her captivating voice can soothe, lift and spread joy, a hallmark of her giving spirit.
Minister Cynthia is a self-proclaimed "life-learner" and upon professing her Call into Ministry during a Women's Conference in 2003, she set out to further expand her knowledge of God and His Holy Word. In 2014, Minister Cynthia earned a Master of Theological Studies degree from the Golden Gate Baptist Theological Seminary of Marin, CA. She is quite passionate about the territory God has laid before her in ministry. Sharing the precious Word of God is an awesome privilege and she understands that her purpose in life is to ensure that the message of Jesus Christ's unconditional love reaches the heart of mankind. She realizes that imparting the Word of God is a sacred honor and privilege; therefore in her quest to fulfill her purpose, she embraces Proverbs 16:3, "Commit thy works unto the Lord, and thy thoughts shall be established."